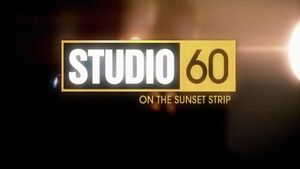 Studio 60 on the Sunset Strip was an American dramedy television series created and written by Aaron Sorkin. It ran for 22 episodes.
The series takes place behind the scenes of a fictional live sketch comedy show (also called Studio 60 on the Sunset Strip or Studio 60) on the fictional television network NBS (National Broadcasting System), whose format is similar to that of NBC's Saturday Night Live. National Broadcasting System is owned by the TMG Corporation. The fictional show-within-a-show is run by executive producers Matt Albie (Matthew Perry) and Danny Tripp (Bradley Whitford). Matt acts as the head writer and Danny produces the show.
Studio 60 on the Sunset Strip aired on NBC from September 18, 2006 to June 28, 2007. Contents [hide]
What is Studio 60?
Edit
Studio 60 on the Sunset Strip premiered in 1986, created by veteran comedy writer Wes Mendell, who had written for such comedy greats as the Smothers Brothers, Bill Cosby, and Richard Pryor.
By 1999, Wes had set up a system where he, as head writer, wrote most of his material solo, while assistant head writer Joe was left in charge of the writers' room, where the rest of the writers would brainstorm and submit ideas they had come up with individually. This was the year in which Wes hired two unknowns who would eventually become members of the "Big Three," the three most popular and powerful cast members: Yale School of Drama graduate Simon Stiles, and improv veteran Harriet Hayes. Harriet's addition to the cast was especially important, since it attracted the attention of two freshman writers, Luke Scott and Matthew "Matt" Albie, neither of whom had yet been able to get a sketch on the air. Luke and Matt quickly developed a rivalry for Harriet's affections, which they expressed partially by writing material specifically for her. Although Luke was the one having succeeded in writing Harriet's debut sketch, it was Matt Albie whose writing made her a star. Harriet alternately dated both writers, until Luke left, having fallen into Matt's shadow; Luke soon became a success as a director and writer for motion pictures.
By 2001, Studio 60 had become the flagship show of NBS, impressionist Tom Jeter rounded out the Big Three, and Matt had become enough of a success that he had replaced Joe as asst. head writer. In fact, according to producer Daniel "Danny" Tripp, Matt had actually been writing the show since 1999, while Wes spent most of his time in his office "getting old." When Wes was temporarily taken out of the picture by a cigarette-related heart attack, he left the show in the hands of Matt and Danny. The duo strenuously objected to having to produce a season premiere in the immediate wake of September 11, but their objections were overruled by network chairman Jack Rudolph. Jack gave them strict instructions to stay away from "anti-American" political satire and to focus on Hollywood. Matt wrote an opening sketch satirizing a meeting between Karl Rove and movie executives. Jack objected to the sketch, while Matt defended it because it made fun of Hollywood. Making a deal with Jack, Danny and Matt agreed to pull the sketch if the representatives of their sponsors objected after seeing the dress rehearsal. None of the sponsors objected, the sketch made it onto the show, and there was an immediate conservative backlash. As a result, Jack threatened to fire Matt and Danny unless they apologized for the sketch. They refused to apologize and expected Wes to stand up for their decision. Instead, Wes decided to issue an apology on the show's behalf. Realizing Wes had buckled under perceived pressure from the network, Matt and Danny quit the show.
These decisions caused Wes to begin doubting himself, and, by 2006, he had more or less unofficially handed artistic control of the show over to assistant head writers Ricky & Ron, best known for their unfunny recurring sketch "Peripheral Vision Man." Prolific but untalented, Ricky & Ron led the show into an artistic slump. When Wes tried to shake things up by opening the new season with "Crazy Christians," a sketch that was written by Matt before he quit, he was overruled by Standards & Practices. Wes responded by interrupting the opening sketch with a live, on-air rant about network sensibilities and how they had sapped the quality out of Studio 60 and television in general. The network, under the leadership of newly appointed president Jordan McDeere, responded by firing Wes and bringing back Danny Tripp as executive producer and Matt Albie as executive producer and head writer.
During their time away from Studio 60 Matt & Danny found success as a writer/director filmmaking team, a success culminating with a WGA award for Matt. Still stung by the betrayal of Wes and angry at Jack for refusing to side with their artistic integrity five years earlier, Matt & Danny, nevertheless, accepted the job as show runners when Danny failed a drug test and, thus, could not get insured for their next movie.
Matt's return to the show reunited him with Harriet, with whom he had recently broken up. This reunion, coupled with Harriet's casting in Luke's latest movie, reignited Luke and Matt's rivalry for Harriet's affections. Meanwhile, Danny began to develop a romance with Jordan McDeere, who continued to rile Jack with her distaste for unscripted television and commitment to cerebral programming.
In the writing room, Matt benched Ricky & Ron, partially in retaliation for a post-9/11 snub, but mostly because Matt held the nearly-universally shared view that Ricky & Ron were hack writers. Bitter, Ricky & Ron walked out to write for the Fox network production of their optioned Peripheral Vision Man, taking with them all but two of the writing staff. The only writers remaining included Matt as the head writer; the inexperienced Lucy Kenwright, who had never had a sketch on air; and the unsuccessful stand-up comedian Darius Hawthorne, whom Matt had only recently hired in response to Simon's request for more black writers on the show. Realizing that they desperately needed help, Matt hired veteran Studio 60 writer Andy Mackinaw as a writing advisor. Andy, who had retired from comedy after his family was killed in a car accident, then decided to remain on staff as assistant head writer.
Latest activity
Edit